Performance Management
Making PERFORMANCE Soar!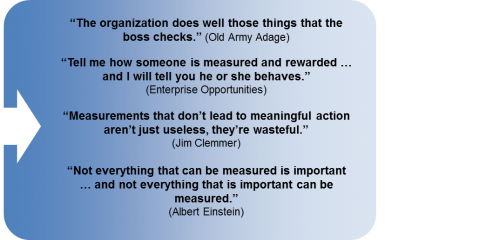 We live in an 'ouctome driven'  age: clients, funders and donors want to know that your organization makes a difference before they commit.  Unfortunately, the majority of teams facing this new scrutiny have yet to provide the required evidence.  No organizations are exempt as stakeholders push for:
increased accountability – to ensure that their agencies are responsive and rsponsible to the customer or stakeholder commuities that are being served and/or are paying the bills
a focus on outcomes – to ensure that programs, services and other investments are oriented towards the ends or results that are most important … not obsessed with traditional means or activities that may not be doing the job at all
enhanced efficiency and effectiveness – to ensure that scarce resources are invested in the most important areas and used as productively as possible.
RETHINK can help:
define the visionary and intermediate outcomes desired and drive them down into the organization, making them meaningful to each staff and volunteer team
build logic models that connect core business activities to these outcomes and identify the indicators that will be used to measure contribution – for the entire organization, for each unit or department, and for each corporate strategic priority
develop performance measurement tools and procedures that are cost effective and easily implemented within your budget and cultural framework
identify 'evidence based' best practices and install a Kaizen philosophy of constant improvement
build a 'results philosophy' into your organizational culture and way of doing business – job descritpions, management evaluation, marketing, reporting.